CEHURD Commemorates 10 years of Social Justice in Health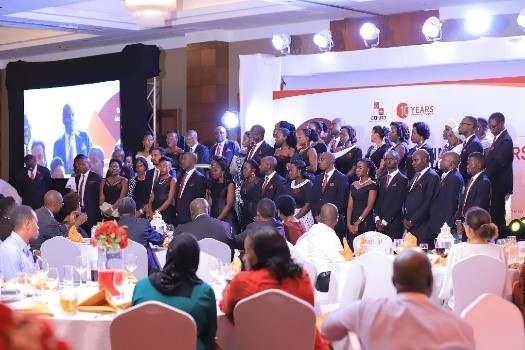 By Regina Kayoyo
On Thursday 7th November, The Centre for Health, Human Rights and Development (CEHURD) celebrated their 10 year anniversary at the Sheraton Hotel in Kampala. CEHURD is a non-profit, research and advocacy organization pioneering the justiciability of the right to health. Ten years ago, CEHURD began with a vision of a health system that reflected social justice and human rights. Through a combination of strategic litigation, campaigns, community empowerment and knowledge building, CEHURD has brought that vision closer to reality. This 10th anniversary was an opportunity to reflect on CEHURD's myrid accomplishments and consider the ideas, the efforts and most importantly, the people who made them possible.
Giving his remarks at this celebration, the Executive Director Mr. Mulumba Moses said "…CEHURD began with an idea of ensuring the health rights of everyone, but especially Uganda's vulnerable communities…ten years later, it has emerged as a leader in the field, with a reputation for using bold strategies to realize and expand the right to health and those who have access to it…"
"It started at a time when issues of health and human rights in the country, especially adopting a right-based approach to health, were nascent" said Professor Ben Twinomugisha, the Chairperson of CEHURD Board of Directors. "Very few lawyers were engaged in questions of health"
CEHURD has created grassroots networks to make people aware of exactly what rights and services they are entitled to and to train them to advocate for those rights. Those advocates also become monitors within their communities, standing up for the rights of their patients and identifying potential new cases to be litigated.
"CEHURD has brought that unique perspectives of strategic litigation, but also building strong partners with medical professionals to advocate for change in the health sector for the good of everyone" said Dr. Ekwaro Obuku, the President of the Uganda medical Association.
This celebration also included a launch of CEHURD's second strategic plan (2020-2024) under the theme "Rebound, Innovate, Sustain". According to this Strategic Plan CEHURD will work on supporting areas including; women and girls, children and youth, sexual minorities, persons with Disabilities, Ethnic Minorities, People Living with HIV/AIDs and TB, the Elderly, Survivors of violence, torture and conflict. While launching this strategic plan, Hon. Lady Justice Eva K. Luswata appreciated this innovation of such a young organization in a very difficult area of justice. She thanked their leadership in bringing to light issues of women's health to the courts of law but urged them to consider other forms of dispute resolution other than through the use of Courts.
As a long standing partner of CEHURD, FRA through our Board Chairperson and Treasurer, presented the team with an anniversary gift, in recognition of their unwavering dedication and support towards healthy food systems in the country. In his accompanying remarks, Mr. Kimera Richard, the FRA board Treasurer noted that partnerships are key for social justice and facilitating the right to food. He stated that FRA-CEHURD collaborations are sustainable change agents in poor societies and urged them to keep up the superb work.
We stand together to celebrate their work for the past 10 years and wish them a steadfast journey as they implement the next 5 years of their strategic plan.