Civil society calls for increased govt funding to fight drought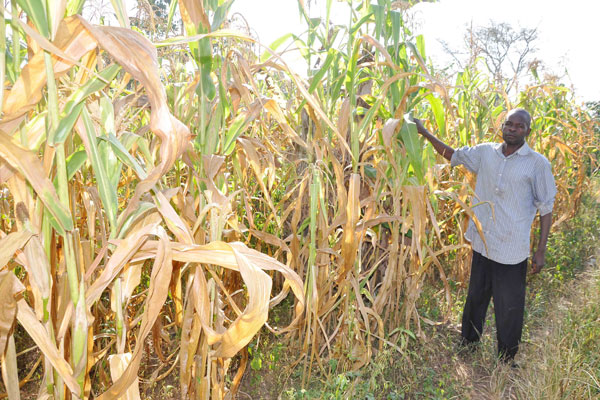 As the dry spell hits the county hard, activists under their umbrella body Civil Society Budget Advocacy Group (CSBAG), have called upon government to allocate a specialised budget to rejuvenate irrigation valley dams and national food stores.
While speaking to the media in Kampala last week, Ms Agnes Kirabo, the executive director Food Rights Alliance, punched holes in the 2017/18 National Budget Frame Work Paper, saying it does not provide immediate solutions to the dry spell and famine that are likely to claim lives since acres of crops have dried up at infancy stages.
Ms Kirabo, who attributed the famine reported in the different parts of the country to immigrants and fake seed dealers that have made farmers incur loses, said government needs to act swiftly on monitoring boarders to control immigrants and fake seeds from entering the country.
"Government should allocate enough funds to revamp deserted valley dams in Teso, Lango and Karamoja. We need to always be prepared for droughts and we no longer need stories of people who have died of hunger," Ms Kirabo said.
She added: "OPM (Office of the Prime minister) should have a budget to buy and store food. The climate change and dry spells are far from ending and we therefore to need to devise means of keeping people safe," she added.
Ms Kirabo also challenged government to refocus Operation Wealth Creation by encouraging farmers to grow vegetables which she said grow in a very short period compared to other crops that are easily affected by unreliable rains.
Mr Julius Mukunda, the CSBAG coordinator, warned that domestic borrowing is likely to be very difficult in the next fiscal year given that budget support has greatly reduced from 962.6b to 33.8b registering a 96 per cent decline.
This means that government will heavily rely on domestic financing for the 2017/18 financial year. As a result, government domestic borrowing will increase to a tune of Shs1.477 trillion compared to Shs345.6b in the 2016/17 financial year.
"That means our efforts of having low interest rates are likely to hit a dead end. The interest rates are likely to double. We, therefore, call for interest capping if we are to encourage safe domestic borrowing," he said.
Mr Mukunda also expressed worry on low debt absorption and non-performing of loans.
He said the low absorption of debt culminates into payment of commitment charges and reflects ineffective implementation of project of programmes.
Debt accumulation
By end of June 2016, committed but un-disbursed debt stood at Shs18 trillion with commitment charges of Shs20b to be paid, something that resulted into increased debt servicing.
"We recommend that government establishes a fully functioning appraisal and evaluation department to approve project designs to enable the avoidance of debt related costs and delays during implementation as a result of poor feasibility studies and project designs," Mr Mukunda said. Quoting the financial audit for central government in the 2015/2016 financial year, Ms Juliet Akello, the programme officer governance and rights at Uganda Debt Network and Ms Ruth Namala, advocacy and communications Kick Corruption Out of Uganda, said more than Shs77.7b could have been saved if government addressed wastage and misuse of funds.
The said amount accumulated from procurement of vehicles for memebrs of Parliament at a cost of Shs64b which, activists say, was unnecessary as MPs could get cars on loan basis.
Shs6b was spent on a presidential handshake in the trending oil cash bonanza, Shs1.97 trillion accumulated interest on delayed clearance of construction certificates, Shs225.9m on old items occupying, Shs3.3b interest charges due to failure to pay the VAT component on contracts for construction of schools, Shs636.2m on litigation costs because of breach of three contracts regarding rehabilitation, refurbishment and construction works, Shs358.6m interest charges on delayed payments of approved certificates for construction of various water facilities and Shs508.9m on interest charges.
Source: Daily Monitor