Civil Society Meets Parliament on Proposed Agriculture Budget FY 2020/21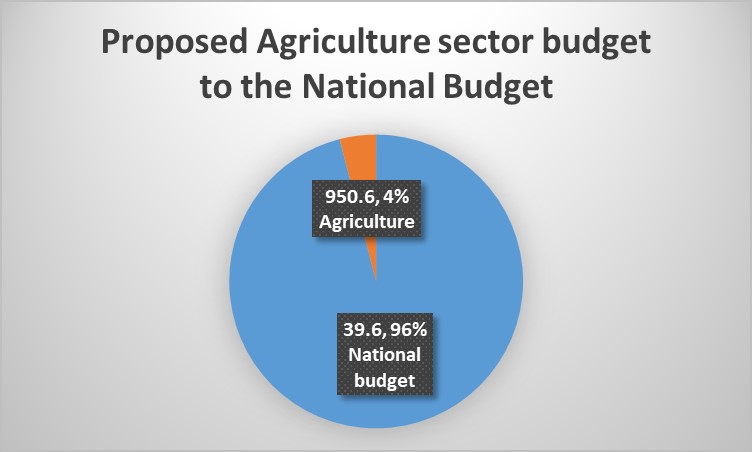 By Regina Kayoyo
Civil Society Organizations (CSOs) under their umbrella body Civil Society Budget Advocacy Group (CSBAG) on 15th January met with the Parliamentary Committee on agriculture chaired by Hon. Okori-Moe Janet. The meeting that discussed the projected agriculture sector budget for the FY 2020/21 attracted key civil society players including Food Rights Alliance, Slow Food Uganda, PELUM Uganda, Uganda Youth Network, Caritas Uganda among others.
The FY 2020/21 will mark the first year of implementation of the National Development Plan III which will guide national planning for the next 5 years. The CSOs present at this meeting expressed concern over the proposed budget cuts in key social sectors including agriculture. They noted that whereas the recurrent expenditure is set to increase by UGX 1 tillion, the development budget is proposed to reduce by UGX 1.4 trillion. Specifically, in FY 2020/21, Government proposes to cut the agriculture budget from UGX 1.053.553Bn in FY 2019/20 to UGX 950.615M in FY 2020/21. Other social sectors whose budget is to be cut include health, education, and social development. To this, CSOs called for upward revision of social sector budgets which are largely relied on by majority of the vulnerable citizens.
With a closer look at the proposed sector budget, CSOs expressed concern over the reduction in funding to supportive services from FY 2019/20 to FY 2020/21 like agricultural extension and skills management from UGX 3.864b to UGX 2.976bn, crop resources from UGX 270.184bn to UGX 102.263bn and animal resources from UGX 107.918bn to UGX 89.408bn. For inclusive and sustainable growth, CSOs tasked Government to reconsider these cuts given that these are critical drivers to increasing production and productivity of the sector.
While presenting their position paper to the Parliament's committee. These delegates asked the Government to consider the issues of agriculture financing and insurance. They specifically asked for easy access to agricultural finance and insurance by farmers, for increased production in the agricultural sector. According to them, despite the well appreciated need to create agricultural enterprises for many agricultural value chain actors, the financial products and instruments developed by financial institutions in Uganda remain mostly unknown. They emphasized that these financial products are still poorly understood, costly to navigate and to access. They said that the available financial products are not suited to the realities within the agricultural industry.
Agnes Kirabo, the Executive Director Food Rights Alliance, a member organization to CSBAG recommended Parliament to task the MoFPED to expedite the process of concluding the development of the agricultural finance policy and strategy and in addition, kick start processes of undertaking legal reforms to accommodate agricultural financing.
Responding to CSBAG's presentation, the MPs commended the CSOs for the position paper and implored them to furnish them with enough information on agriculture credit financing to enable them push government. "The agricultural credit financing is lying idle you can give us more information so that it can enrich our recommendations to the budget committee," Vincent Womboya, a member of the committee said.