FRA Conducts Inception of New Project Phase in Amuria, Ngora Districts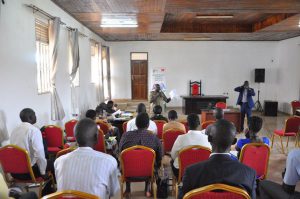 In the week of 18th to 22nd June 2018, FRA together with her partner's i.e. War on Want Northern Ireland, WEDA introduced the new project phase funded by Rosa Luxemburg Stiftung to Ngora and Amuria district councils.  The new phase focuses on the promotion of food and nutrition security at household level.
With the many interventions in the region i.e. Entandikwa scheme, NUSAF, OWC and other interventions by CSOs, one would have no doubt that the area has surpassed the food insecurity bracket. However, food continues to be scare at some points of the year due to predominantly practicing nature based agriculture. Despite of this, there's a need to focus on nutritional needs of the people which are a concern of late and can be improved on with the little resources households may have.
To tackle these problems, In December 2017, Ngora district council passed the food and environmental management ordinance intended to guide people while promoting food and nutritional security in a manner that does not encroach on the future generations. This has not been implemented or even disseminated. FRA in collaboration with Ngora district council used these platforms to induct people through the ordinance and together devise ways of disseminating it to all the people in the district, FRA,  has already started  assisting the local government disseminate it as well as implementing it. This is through conducting training/s of how to source and consume food rich in desired nutrients.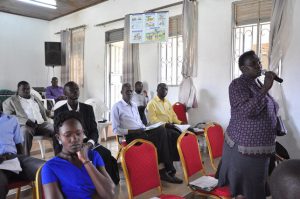 In Mukura and Wera sub counties, this initiative started with trainings on household food and nutrition security conducted by FRA to show the people that one can eat healthy using the resources he/she has. The trainings were eye openers and people made actions plans on improving their nutrition statuses in their households. It was clear before the trainings, people thought nutrition coincided with expensive tasty foods which are often sold in shops, this was demystified by the trainings.
By Jude Ssebuliba