Government battles to avert food crisis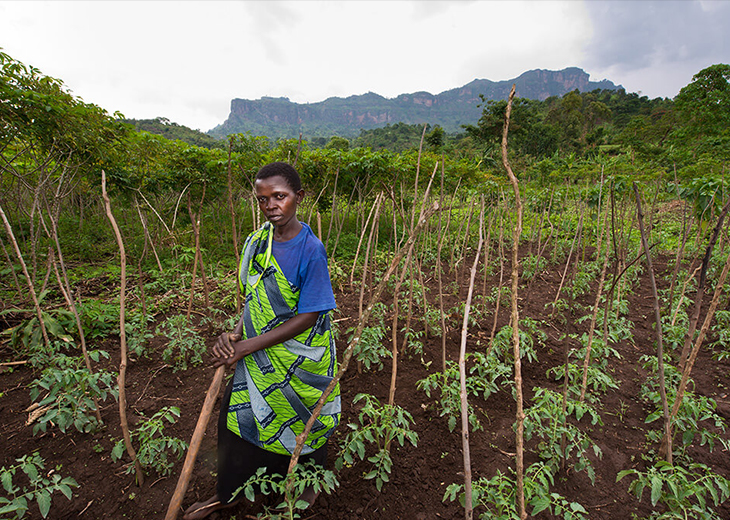 A day after the National Food Security Assessment Report 2017 showed that more than 10 million Ugandans are food insecure, Daily Monitor has learnt that the National Agricultural Advisory Services (Naads) has procured farm inputs including cassava cuttings, sorghum, maize and bean seeds worth Shs27b to distribute to farmers across the country.
Distribution of the inputs, according to Dr Samuel Mugasi, the Naads executive director, starts this week and the first beneficiaries expected are farmers in areas that have been worst hit by prolonged drought that has afflicted farmers for most of last year.
The targeted areas include Karamoja, the Teso sub-region, northern Uganda, and Isingiro District in southwestern Uganda.
"We are ready to start distribution. The weather forecast is clear [that we are going to have rains]," Dr Mugasi told this paper.
"We are looking at 3,500 metric tons of maize and about 1000 metric tonnes of beans. We will also give out cassava [cuttings], sorghum [seeds] for northern Uganda," Dr Mugasi added.
The development comes a week after weather experts at the Uganda National Meteorological Authority (UNMA) indicated that much of the country, with the exception of Karamoja sub-region, will receive enough rainfall.
The rains comes after last year's devastating extended dry spell that led to massive crop failure, forcing nearly 10.9 million people into starving, which Prime Minister Ruhakana Rugunda said would require Shs25 billion in relief food to offset suffering.
Separately, Mr Vincent Ssempijja, the Agriculture minister, said Cabinet is seeking a Shs52.6 billion budget to cater for similar projected emergencies amid the changing weather patterns.
Even as Naads plans to distribute the farm inputs, observers fear the Shs27b may go to waste if some outstanding fundamentals are not fixed.
Ms Agnes Kirabo, the executive director of Food Rights Alliance (FRA), a coalition of civil social organisations in the field of sustainable agriculture and food security, says agriculture can no longer be sustained on only natural rains.
"Every Ugandan, regardless of status, is talking about water for production. Last year, Naads gave seedlings but some enterprises' survival rates is as low as 12 per cent and now with drought, some enterprises, especially in the crop sector, are falling flat," Ms Kirabo says.
Her views were echoed by Makerere University Business School (Mubs) economics lecturer, Mr Ramadhan Ggoobi, who says concentrating on seeds distribution is wrong and he proposes a more multifaceted approach if agriculture is to be transformed.
"You cannot say let us concentrate on water or seeds, no. Things like irrigation requires a lot of capital and government allocate [300bn on irrigation scheme irrigation.
But Dr Mugasi says despite changing weather, Uganda is one of the few countries that can still reap good harvests even without irrigation.
For now, he says, their energies are being directed at ensuring that farmers get high quality seedlings distributed in time and having enough extension workers that will advise farmers on what to do.
During events to mark the 54th Independence celebrations in Luuka District last year, President Museveni revealed that about half of the 122 million coffee seedlings distributed to farmers countrywide under the government's flagship Operation Wealth Creation programme have dried up in the scorching heat.
He attributed this to inability to farmers' inability to harvest rain and tap water from numerous water bodies, a deficiency in technology, and lack of effective irrigation policy by the ministry of Agriculture, which the President challenged to do more for higher farm yields and food security.
"We know our problems, we know how to deal with them but we do not know how to structure those inspirations within the financing framework and then put money there," Kirabo adds.
Dr Mugasi, however, says a grand strategy to provide cheap irrigation schemes to farmers is being mooted between the two ministries—Water and Environment, and that of Agriculture.
In the meantime, Dr Mugasi advised farmers to plant now and if the weather forecasts are anything to go by, then farmers should be assured of good harvests.
While releasing the forecast last month, Mr Festus Luboyera, the executive director of UNMA, said much of the country, with exception of Karamoja will receive above and normal rainfall.
"There is an increased probability of above normal rainfall for western sector of Uganda, normal rainfall for central, Lake Victoria Basin, south –eastern and central northern Uganda and below normal for Karamoja regions and parts of Lango and Acholi," Mr Luboyera said.
"[Farmers] should carryout soil and water conservation practices such as digging trenches, mulching minimum tillage…and enhance surveillance of crops for pests and diseases," he told the press at the Uganda Media Centre recently.
Mr Luboyera also warned mudslide-prone areas such as Elgon region and south western to be on the lookout to avoid disasters induced by heavy rainfall.
"The onset of seasonal rains is expected to be characterized by severe thunderstorms and hailstorms over several parts of the country," Mr Deus Bamanya, the UNMA director of Applied Meteorology, data and climate services, warned as he released the forecast.
Eastern.
Busoga sub-region, Tororo and Busia, according to forecast will start to receive normal rains early or mid-March with cessation expected around late May.
Teso and Bugisu region, which form the east central, is expected to receive rains in mid-March and cessation is expected in mid-June.
However, Karamoja sub-region, which has been hit hard by the long dry season will continue to suffer, with the forecast indicating the region will receive very little rainfall.
"Irregular light rains are expected to set in around late March, thereafter a prolonged dry spell is expected until mid-April when steady rains are expected to get established," Mr Bamanya said.
Northern Uganda
Northern Uganda and northwestern is expected to receive near normal rains starting early to mid-April.
Like other regions of the country, northern Uganda is currently experiencing dry conditions that have seen crops and water sources dry up.
Southwestern Uganda districts such as Kisoro, Kabale, Rukungiri, Mbarara, Ntungamo, and Kasese expected to receive heavy rainfall which may destroy infrastructure but also increase incidences of diseases such cholera and malaria.
Western central districts such Kabarole, Kyegegwa,Bundibugyo, Masindi,Kibaale, Hoima are expected to receive normal rainfall starting mid-March and reduce in mid-June.
Lake Victoria
Central and western Lake Victoria basin districts of Kampala, Wakiso, Kalangala, Masaka, Butambala, and Mpigi, among others, are expected to receive normal rains characterized by strong and destructive winds as well as hailstorms starting late February until mid-June. So will the cattle corridor districts of Nakasongola, Luwero, Kyankwanzi, Sembabule and some of the districts which form west central.
Source: Daily Monitor