What Uganda's Land Sector has to offer to the Parish Development Model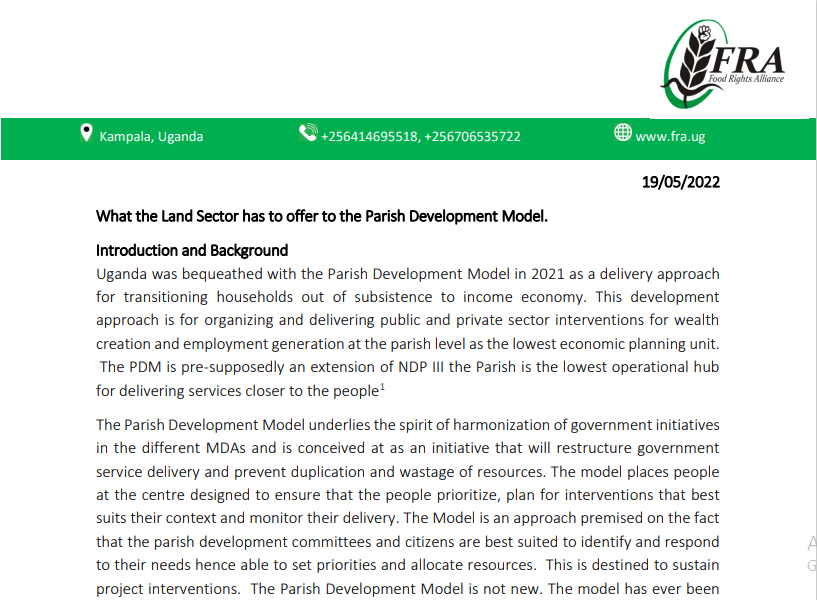 What Uganda's Land Sector has to offer to the Parish Development Model
Uganda was bequeathed with the Parish Development Model in 2021 as a delivery approach for transitioning households out of subsistence to income economy. This development approach is for organizing and delivering public and private sector interventions for wealth creation and employment generation at the parish level as the lowest economic planning unit. The PDM is…
Uganda was bequeathed with the Parish Development Model in 2021 as a delivery approach
for transitioning households out of subsistence to income economy. This development
approach is for organizing and delivering public and private sector interventions for wealth
creation and employment generation at the parish level as the lowest economic planning unit.
The PDM is pre-supposedly an extension of NDP III the Parish is the lowest operational hub
for delivering services closer to the people.
The Parish Development Model underlies the spirit of harmonization of government initiatives
in the different MDAs and is conceived at as an initiative that will restructure government
service delivery and prevent duplication and wastage of resources. The model places people
at the centre designed to ensure that the people prioritize, plan for interventions that best
suits their context and monitor their delivery. The Model is an approach premised on the fact
that the parish development committees and citizens are best suited to identify and respond
to their needs hence able to set priorities and allocate resources. This is destined to sustain
project interventions. The Parish Development Model is not new. The model has ever been
implemented to stimulate development at the grassroots level.
In order to operationalize and realise the objectives of the Parish Development Model, the
government has anchored it on 7 Pillars i.e. Productivity; Processing, Storage and marketing;
Infrastructure and Economic services; Financial Inclusion, Social services; Mind-set Change;
Parish Based Information System; and Governance and Administration. These will deepen
decentralization on the process, improve household, enhance inclusive, sustainable, balanced
and equitable socio-economic transformation and increased accountability at community
levels.
For details, please download the publication below: