Re-igniting the Hope of a Rural Woman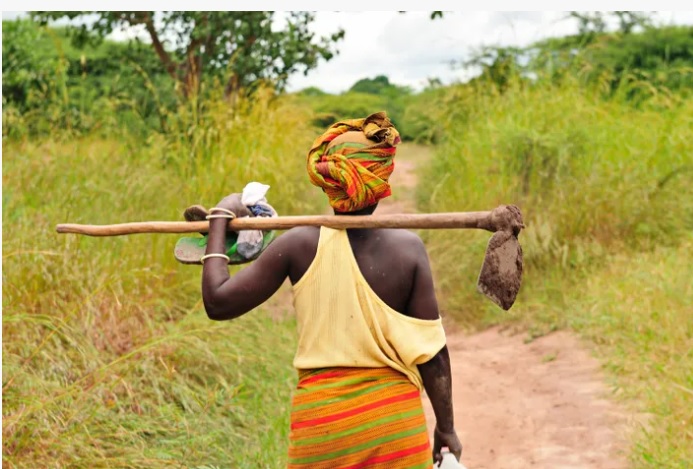 By Orochi Freda Laura
Aciro is a 36-year-old single mother of 8 children and 4 dependents living in one of the rural villages in Uganda. Aciro derives her livelihood from selling boiled maize in the evening by the road side market. Aciro says her husband chased her from her marital home because she only produced girls and is staying at her brother's home who has given her a hut to accommodate her and her children. However, she also says that as payment for offering her an abode she provides manual labor on her brother's maize plantation and also sells some of the produce at the roadside market. However, with the covid 19 situation business has declined greatly because her usual customers who were working at a construction site were all laid off and can no longer afford to buy maize. Aciro and her children are now living on one meal per day.
Asio is a 29-year-old married woman of 4 children living in one of the rural villages in Uganda. Their sole livelihood depends on food grown on the family farm and earnings from her husband labor at a construction site. When Asio's husband was buying the family farm Asio gave him some money to top up on the payment. Due to the covid 19 lock down her husband was laid off from the construction site.  He wanted to sell off the family farm so that he could buy a boda-boda to support the family. Asio signed the spousal consent form allowing him to sell off the family land after he broke both her legs.
Karungi is a 14-year-old adolescent girl living in one of the rural villages in Uganda. Before lockdown Karungi was studying in primary 5 in one of the UPE funded schools in her village. During the lockdown period they received information giving them days to leave their land and the next day men driving tractors razed down their gardens and buildings. Even the only health center and school in the neighborhood has been razed down. Karungi and her family have been living in makeshift shelters. One evening as Karungi was going to the well to fetch water she was defiled by one of her neighbors. Her father on discovering that she is pregnant decided to marry her off to the neighbor after he offered to give her family an acre of land as compensation.
Nakito is a 60-year-old woman married woman living in one of the rural villages in Uganda. Nakito 's family depend on growing of matooke for their livelihood. Nakito and her 4 children are in charge of growing of the matooke and harvesting while her husband is in charge of sales. Nakito never sees any of the money gotten after the sale of the matooke in the market but compliments her family's diet by selling vegetables in the market in the evening and using the income received to sustain the family. However, during the lockdown period, the price of matooke dropped drastically leading to disappointing sales. The ban on transport made it hard to readily transport the produce to the far-off markets where there was a slight demand. When Nakito realized this, she started using the ripe matooke in the garden to make pancakes and local gin for sale. However, Nakito was arrested and detained by the Police for breaking curfew when she was caught hawking off her produce past curfew hours.  Nakito's husband abandoned their home and fled since he was unable to look after their children.  Nakito's children are now living with the neighbors.
All these are some of the different scenarios that rural women and girls experience and this situation has worsened with the advent of the Covid 19. Rural women play a critical role in advancing agricultural and economic development as well as in ensuring food security. They are the primary producers of food and provide the major labor force in agricultural production. In Uganda rural women provide approximately 80% to 90% of labor in agricultural production yet they suffer from hunger.  As we celebrate the international day for the rural woman let us ensure that we reignite these women's hope is by focusing and prioritizing initiatives and strategies that build resilience of rural women to weather the shocks of calamities and pestilence that affect their livelihoods. There is therefore need to ensure that rural women's voices are recognized in policy making, budgeting process as this ensures her participation in all matters affecting her well being and economic development. It is important for Uganda as a country to recognize the role that rural women play in society and feature them prominently in the nation's development plans.