Mission and Vision          Our Financials            Our History           Our Plan          Operations          Leadership          Partners          Research and Publications
Based on their missions, competencies and strategic positioning, member organizations self-select into thematic groups that meet regularly to plan and coordinate Food Rights Alliance objectives.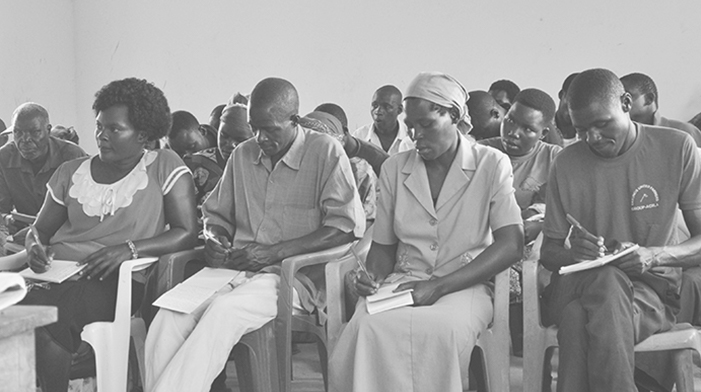 Member organizations based on their missions, competencies and strategic positioning, will self-select into these Thematic Groups that meet regularly to plan and coordinate all three objectives of the Food Rights Alliance strategy : Advocacy, Knowledge Management and Capacity Development within the theme. Each thematic group is led by one (or sometimes two) member organization with appropriate competence, technical knowledge and expertise in the thematic area. Below is a summary description of each Thematic Group.
Food and Nutrition
This thematic group looks at issues of food and nutrition security encompassing the essential elements of food accessibility, availability, stability and utilization. Examples of specific issues and policies the Food andNutrition Thematic Group has been involved in include: the government's Food and Nutrition Action Plan; the East African Community's Food and Nutrition Policy; food safety issues (e.g. toxins in food) and post-harvest handling. The group also tracks issues related to feeding of particular "interest groups" such as school feeding programmes, feeding prisoners, and providing adequate food to refugees and IDPs.
Natural Assets
Food production is rooted in the natural assets of land, soil and water, so this thematic group focuses on issues related to those assets as well as natural resources such as oil, gas, and minerals and how they impact the availability and quality of land, soil and water. Oil and gas exploitation for example can take land out of agricultural production and cause land degradation. The goal is sustainable management and good governance of these resources so that food availability and accessibility are maximized. Examples of specific issues this group has been involved in include land-grabbing, land use and planning, and how commercial tree planting affects agriculture.
Seed Security and Biodiversity
The FRA views seeds as the source of life and the core of the food system. In short, the right to seeds = the right to food. This thematic group looks at both crops and livestock so beyond seed security it examines the availability of plant propagation and breeding material. Biodiversity issues encompass the availability and nutritional value of a broad variety of foods as well as social and cultural differences in food systems and consumption. Examples of issues this thematic group has worked on include: genetically modified organisms (GMOs); intellectual property issues; the Biosafety Bill; the Plant Variety Protection (PVP) Bill; and the National Seed Policy being developed.
Trade and Market Access
Trade issues originally gave birth to the FRA back in 1999 when the World Trade Organization was organizing a round of talks in Seattle. Food security is not just about agricultural production since most people cannot produce all the food they need. Trade and markets fundamentally affect the accessibility and availability of food for most people. This thematic group looks at global trade agreements and negotiations as well as policies and practices that affect food distribution internally in Uganda. Specific issues examined have included the Economic Partnership Agreement (EPA) of the European Union (EU) and East African Community (EAC); the National Trade Policy; and various other trade protocols of the EAC.
Youth
There is a burgeoning youth population in Uganda that is consuming yet generally not producing food. Many have turned away from agriculture although they have no other viable alternatives for employment. This thematic group examines the issues around youth and agriculture and has been involved in organizing and coordinating an FRA Youth Group that is an annual forum for youth to gather and exchange views. This thematic group has been involved in issues around youth and technology as it relates to agriculture, and providing input to the national budget process focused on food and agriculture projects to address youth challenges.
Governance and Policy
This thematic group focuses on the broader food-related policy frameworks and governance issues that impact on food availability, accessibility, stability, and utilization. For example, this thematic group takes the lead on participating in dialogues and providing input to consultative processes related to revisions to the National Agriculture Plan (NAP) and the agriculture Development Sector Investment Plan (DSIP) as well as processes initiated as a part of the international CAADP and GAFSP programs.
Financial Assets
This thematic group is concerned with how the government generates, allocates and utilizes resources related to agriculture, food security, and nutrition. It focuses on issues of taxation, budget and debt (government borrowing). The Financial Assets thematic group takes the lead each year in collaboration with the Civil Society Budget Advisory Group (and FRA member) for the analysis of agricultural investment in the annual budget. Recent announcements of taxation on agricultural inputs along with government policies on borrowing and servicing debt are issues addressed by this group.