World Food Day 2017: Invest in Food Security and Rural Development

Throughout the year, the Food Rights Alliance commemorates a number of days and events national and international that identify with her work of fighting hunger and malnutrition. But, none of these speak as closely to FRA's heart as the World Food Day.
Celebrated every year on 16th October, this day honors the founding of the Food and Agriculture Organization of the United Nations in 1945. Since 1981, World Food Day has adopted a different theme each year in order to highlight areas needed for action and provide a common focus. This year, the theme is
"Change the future of migration. Invest in food security and rural development".
According to the World Food Program, in 2015 the number of international immigrants across the world had risen by 40% to 244 million from the year 2000. Within national borders, the number of migrants was estimated at 765 million in 2013. In Uganda, the rates of migration are currently staggering. Having one of the world's most compassionate refugee policies, the country has seen the number of refugees entering its borders grow at the proverbial speed of light. For instance, the UN expected roughly 300,000 South Sudanese refugees to come to Uganda in 2017. However, just three months into the year, the estimate had risen to 400,000.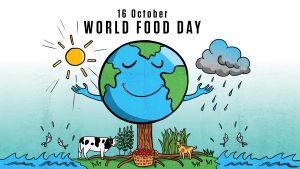 In addition to this, the rate of migration within the country's borders has also continued to grow. This has been fostered by a number of factors including large scale land evictions to avail land for land based investments, and also, the search for better opportunities and living conditions.  This is especially seen in the instances of rural-urban migration where populations particularly the youth move from villages where there is minimal opportunity for improving their livelihoods. They thus move to towns in search of employment opportunities and access to better social services.
As three-quarters of the extreme poor base their livelihoods on agriculture or other rural activities; creating conditions that allow rural people, especially youth, to stay at home when they feel it is safe to do so, and to have more resilient livelihoods, is a crucial component of any plan to tackle the migration challenge. This can only be done through developing the rural economies. Uganda being an agrarian economy, rural development can only be fostered by increased investment in rural infrastructure, agricultural research, extension services and technology development in order to enhance its agricultural productive capacity.
Visit our Facebook and Twitter pages for more updates on the day's events.