Uganda Hosts 11th International Conference on Community-Based Adaptation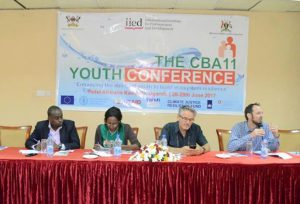 From 26-29 June, Uganda hosted the 11th International Conference on Community-Based Adaptation (CBA11) to climate change that took place in Kampala. The event that brought together policymakers, development partners and practitioners working on community-based adaptation at the various levels focused on harnessing natural resources and ecosystems for adaptation.
Parallel to the main CBA11 conference, a Youth Conference was held on 28th – 28th June at Hotel Africana. The conference which focused on enhancing the ability of youth to build ecosystem resilience, examined ways ideas and innovations of youth can be incorporated in the policy recommendation on community-based adaptation to climate change
This event brought together perspectives from youth representatives working at the grassroots across the region to answer some of the critical questions relating to the future of young people's engagement in agriculture in an era of climate change and out-migration.  It provided a valuable opportunity for youth representatives from Eastern Africa and South Asia including staff of FRA to raise their voice in the increasingly important policy dialogue relating to migration and climate change, breaking down mainstream assumptions about the role of youth in agriculture and natural resource management, the drivers of migration and responses to climate stress.
Discussions and recommendations from the conference formed the 'Youth Position Statement' which was presented to the main CBA event. Additionally, the conference played a vital role in building a stronger network among youth participants and sharing their knowledge and ideas.